Structured Cabling Installation
Gibbc Network understands that the structured cabling we install will be the foundation of your network. The cabling and connectivity products we install allow you to integrate voice, data, video and management systems within your location. We install cabling solutions for data centers, offices and remote locations.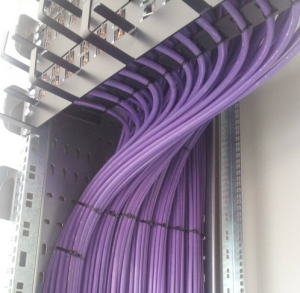 All our work is installed by certified technicians in accord with all the local laws and standards.
We are committed to delivering integrated low voltage solutions to small, medium and large organizations that need to increase productivity, sustain growth, maximize service differentiation, and minimize risk in today's challenging technological environment. Whether you need just one additional outlet or you require 500 network runs installed, we have the knowledge, experience and expertise to ensure your installation is carried out to your specifications and with the same level of service and professionalism regardless of the size of the project.
Our goal with any cabling project is to leave a neat and tidy environment that will be easy to troubleshoot in the future. We document and label all circuits and cable runs to ensure ease of operational support.
Our deliverable to you upon completion is a detailed built document.
Any structured cabling system we install is tested, certified and guaranteed.
Multiple Environments – Multiple Topologies:
Voice and Data Networks
Wireless
Networking CPEs
Fire and Intrusion Alarm Systems
Access Control
CCTV
Structured Cabling & Inside Wiring Services:
Cat 5, Cat 5e, Cat 6s
Fiber Optic Backbones and Uplinks
Gigabit and 10GE Ethernet
Punch Down Blocks and Patch Panels